More Details

[PRODUCT INFORMATION]

Product Size : 20*20*111 (mm)

Product Weight : 10.66 g

Material : ABS, PVC

ac

[CARE INSTRUCTION]

• Consult with a professional if there are any side effects or symptoms of red spots, puffiness, or itchiness occurring after applying the cosmetics or being exposed to direct sunlight.
• Refrain from using the product around injured areas.
• Avoid the eye area when using the product.
• Do not pull or tear the product with excessive force.
• Do not put it in your mouth.
• Do not use for other than its intended purpose.
• Keep it away from the fire.
• Avoid direct sunlight and high temperatures.
• Please keep it out of reach of infants and children.




[SHIPPING NOTICE]

• This product is shipped from South Korea. It is difficult to cancel the order after the fulfillment is complete.

• The order may be canceled or delayed due to an issue of the courier.

• The orders with the PO Box, APO/AFO addresses may be canceled due to the system of the carrier.

• The orders with the addresses written by native languages are not available on the system of the carrier.

• If a customer's order contains 8-hours products, all products will be shipped on the schedule of the products of 8 Hours.




[SHIPPING REGIONS]

LINE FRIENDS COLLECTION delivers to the following 26 territories.

•Asia : China Mainland, Indonesia, Israel, Japan, Jordan, Kingdom of Saudi Arabia, Malaysia, Mainland Hong Kong, Philippines, Qatar, Republic of India, Republic of Türkiye, Singapore, State of Kuwait, Taiwan, Thailand, United Arab Emirates, Vietnam

• North America : Canada, United States of America, Mexico, Puerto Rico

• South America : Argentina, Brazil, Chile

• Oceania : Australia

*Available delivery countries may vary depending on the shipping company (EMS, DHL, UPS).




[SHIPPING POLICY]

• The shipping cost will be automatically set at the price you pay with LINE FRIENDS.

• Customer will be responsible for any Customs fees, taxes and other expenses incurred.

•Please keep in mind if these charges assessed, it is responsibility of the package recipient.

• Depending on its shipped out date, each of your different orders may be packed in one package.

• If you purchased many products, the arrival date of your order may vary due to separately packed in several packages.




[ORDER POLICY]

• A purchase order made by a minor may be cancelled by the same minor or his/her guardian if his/her guardian has not consented to such purchase.
BT21 ETUDE HOUSE
Fixing Tint
#3 Milktea SHOOKY
Review
Customer Reviews
Write a Review
Ask a Question
2023/02/07
Sherrybe R.

Australia
Long-lasting Natural Look
I love how this colour gives me a natural look. It's highly pigmented that it gives my lips evenly coloured - my upper lip is usually a bit darker. It's creamy and lasts really long - I don't have to retouch and it does not transfer, especially when drinking, it does not leave traces on the glass.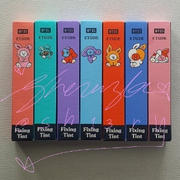 2023/02/07
Monique M.

United States
Cute plush lips
I love how soft and light weight it feels on my lips. It's very pigmented so a little go a long way.
2023/02/02
Carol W.

United States
Creme collab was better
I got all 7. They were ok. The shades don't match the tubes. I wish they would have been clear to show the true color. The formula is good, but I think the BT21 Creme collab lip stains are much better.