THE POWERPUFF GIRLS x NJ METAL KEYRING (HYEIN)
Review
Customer Reviews
Write a Review
Ask a Question
2023/10/20
Alyse B.

United States
Haven't received my order
I ordered these items in August and still have no received my order
2023/09/26
TAKEHIKO T.

Japan
There are some things that have not arrived yet.
I ordered ORDER CL123115 and ORDER CL122912 on September 12th, but they have already arrived today.However, I ordered Order CL119710 and Order CL119843 on August 25th, but they have not arrived yet.Nevertheless, regarding Order CL119710 and Order CL119843, how was the product?I received an e-mail asking how I felt.Is it being shipped properly?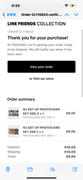 2023/09/03
TA I.

Japan
HYEIN !!
very very very very very cute !!